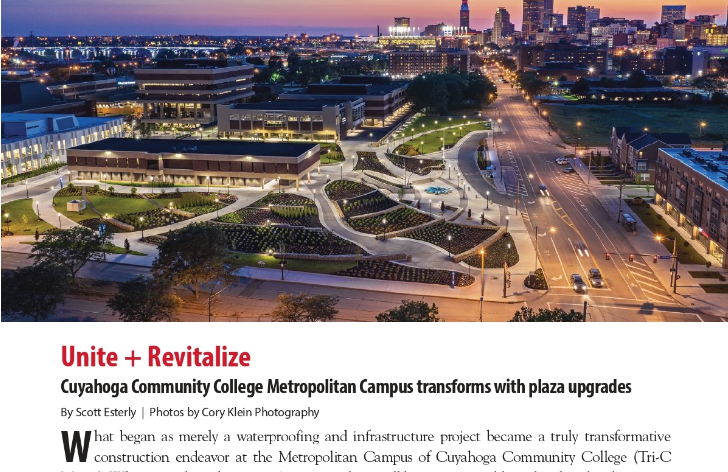 The Cuyahoga Community College Metro Campus Plaza renovation is one of the featured project stories in this month's issue of Properties magazine. Considered a "transformative" project in downtown Cleveland, the renovation encompasses an overhaul of the campus' concrete plazas originally constructed in the 1960s making them more inviting as well as improving the connectivity of the campus and its surrounding environment. R.E. Warner has been proud to provide civil, structural and survey services as a consultant to City Architecture, the Architect of Record on the job, and we are especially honored to have received the following shout-out in the article:
"The most precarious aspect of the plaza redesign was carefully adhering to weight sensitivity of the below-grade structures. […] Another key weight consideration was what is essentially a green roof to the garages below. The fact that soil itself weighs more than concrete was an important part of decision-making, so every inch had to be specified and designed for the transformation, [Alex] Pesta [of City Architecture] notes.
'R.E. Warner & Associates, acting as structural engineer, devised a colored key-plan chart system which aided in decisions on how deep the soil could be in certain areas, thereby dictating in part what types of plants and especially the type and where trees could be planted,' [Pesta] says."
Click here to read the story.