Laser Scanning and 3D Modeling
Our company uses the latest technology and techniques available, including 3D scanning, which builds upon the expertise that already exists within the field of surveying for fast and exact measurements of the real world in three dimensions. A laser scanner delivers all the benefits of a traditional survey with the addition of time savings and greater accuracy. The laser emitted from scanner captures millions of points which altogether form a "point cloud" copy of the real world object or environment.
The process from survey to deliverable includes four specific steps:
Survey Control
Traverse points are established on site prior to scanning. These control points will allow for scans to be pieced together accurately and placed onto a new or existing plant coordinate system and elevation.
Laser Scanning
This is the process that actually collects data. Depending on the size and complexity of the project, multiple scans will be performed. Each individual scan will be related to the control points.
Registration
Once the data is downloaded, the scans are pieced together—all while referencing control points to ensure accuracy is maintained.
Model Creation
Using billions of points gathered from the scan, a 3D model can be created which can be used for documentation, verification, or calculations depending on the deliverable requested.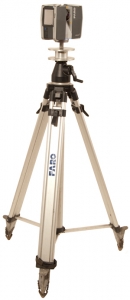 Various Applications
Industrial Applications
Building Information Modeling (BIM)
Emergency Building Mapping
Volumetric Surveys
As-Built Documentation
Archaeological & Historic Preservation
Forensic & Accident Scene Documentation
Representative Clients
BP Husky Refinery
Cleveland Browns
Chemstress
Marathon Petroleum Corporation
Morton Salt
Nexus
Quickdraft, Inc.
St Louis Chemical plant
Timkensteel
US Steel Corporation