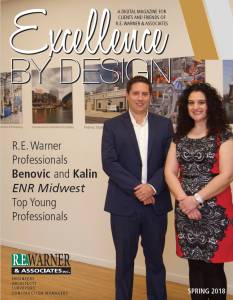 In this issue, we highlight two of our engineers who have been recognized as "Top Young Professionals" by Engineering News-RecordMidwest-Matt Benovic and Jennifer Rowles Kalin.  We also  share "perspectives and insights" on two topics: Recognizing the value of your engineering/ architecture consultant and the real meaning of industry buzzwords.  We also then highlight many of our projects and some news of note.  And as you will read, our team members continue to represent R.E. Warner at numerous professional development workshops and conferences, many as speakers.
I would like to give special thanks to our employees and friends of the firm who attended our Fourth Annual Open House and Toys for Tots Benefit this past fall. Together, we raised more than $3,500, a new record! Our employees make it a point to give back all year long.  Be sure to read about our monthly charitable causes on page 23. We provide links to each of the organizations and encourage you to learn more and even consider a donation.
All of us at R.E. Warner wish you and your family a wonderful spring.  We are so thankful for your business.