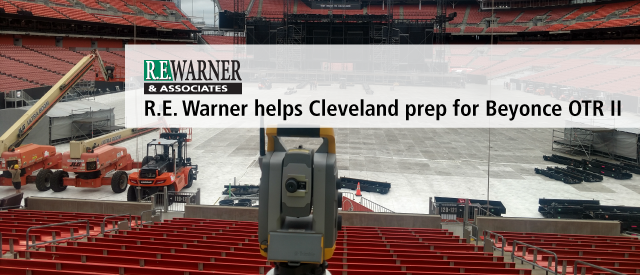 When the Director of Stadium Facilities for the Cleveland Browns calls and asks for assistance with constructing Beyoncé's stage for her OTR II tour stop in Cleveland, you get to work!
Survey Crew Chief Rocky Porterfield and Civil Designer Mike Christopher have been out at FirstEnergy Stadium helping crews build the stage for Beyoncé and Jay-Z's concert taking place Wednesday, July 25. Our scope of work was to set the location of and elevations on the stage, the tracks, the camera booths, and decks.
Rocky and Mike worked hand-in-hand with Robert Hale, who is the Site Coordinator for Live Nation, specifically Beyoncé's OTR II World Tour. When they started, he had just arrived from her Paris show, and so had to get everything organized in a short period of time. He showed the crew what he needed to keep the process moving smoothly, and they jumped right in.
The stage itself is about three stories high, taking up the entire west zone of the field in width, and extending 20 yards in length. The lighting and stage tracks coming off the main stage run the length of the field for Beyoncé to walk the crowd.
As with any surveying project, where due to unforeseen conditions, crews must improvise, adapt, and overcome, this was no different. With the stage being so big, time frame being so tight, and parts being shipped in hourly from the OTR II Paris show, many people were working on top of each other. Great communication skills were crucial for everyone involved.
We started the project on Thursday, July 19, and after an 8 a.m. start time this past Sunday that was delayed several times due to air freight delays, our team members finished around 7:30 p.m. Monday night, with other stage crew right behind them setting pieces in place as they set marks on the ground for placement.
We wish Beyoncé, Jay-Z and everyone else involved a fantastic show tomorrow night!