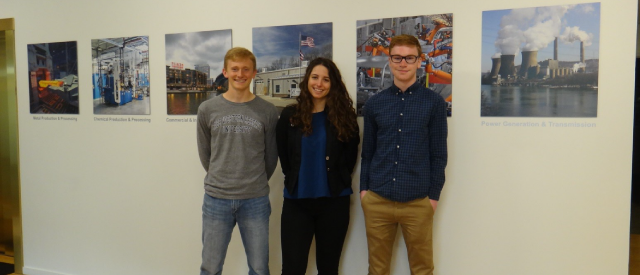 At R.E. Warner & Associates, Inc., we value the personal development of the individual. One example of this value in practice is that we frequently open our doors to high school students so that they may gain exposure to the engineering profession. This spring, R.E. Warner provided seniors the opportunity to acquire a more active and reflective understanding of their potential career by hosting three high school senior students for their Senior Experience Project.
The Senior Experience project is a three-week experience designed to help seniors explore a potential career of interest. Visiting R.E. Warner were Samantha Johnson and Ryan Tatton (Walsh Jesuit) and Logan Haney (Benedictine).
"Having Sam, Ryan and Logan with us was a great experience. Hopefully, they learned that a career in engineering/architecture is right for them. We really enjoyed getting to know them. The 'Senior Experience' is a very worthwhile opportunity for high school students to explore career possibilities." remarked Brett Neff, R.E. Warner Senior Vice President.
SENIOR STUDENTS COMMENT
Of her Senior Experience working at R.E. Warner, Samantha said, "Thank you for allowing me to do my senior experience at R.E. Warner. I was able to build a deeper understanding for what a degree in civil engineering might entail. The civil engineering department did a great job introducing me to what engineers do. They were great teachers who helped me to realize how important engineering is in today's world. This was an invaluable experience that has given me a leg up for my future."
Ryan, another Senior Experience student, also commented on his time at R.E. Warner. "The insight I gained about myself and about the career of engineering is invaluable and will be very useful when deciding my major. In addition, please send my thanks to Mr. Sarrouh and Mr. Reynolds for opening up to me, teaching me fluid mechanics and numerous (and duly noted) life lessons!
Logan, our third Senior Experience student said: "Thank you for the opportunity to shadow with you for the week. I know it takes a lot of work to put together a program like this and I appreciate it. I learned a lot while I was there and it gave me a better understanding of what being an architect involves."
We wish these seniors the best of luck for a future full of many great achievements and much success!