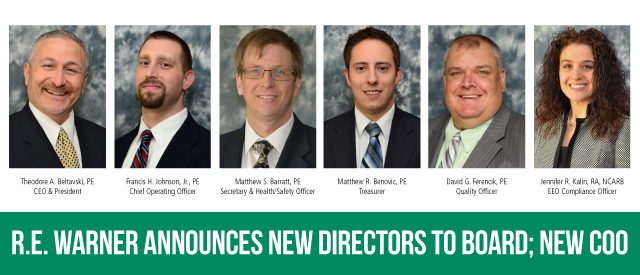 The R.E. Warner Board of Directors is pleased to announce the election of three staff members as new Directors to the Board. They are:
Matthew R. Benovic, PE, SE, Senior Project Manager
David G. Ferencik, PE, Manager, Operations and Civil/Structural
Jennifer R. Kalin, RA, NCARB, Senior Project Manager and Manager, Architecture
In conjunction, the Board also announces its Officer assignments:
CEO & President: Theodore A. Beltavski, PE
Chief Operating Officer: Francis H. Johnson, Jr., PE
Secretary and Health & Safety Officer: Matthew S. Barratt, PE
Treasurer: Matthew R. Benovic, PE, SE
Quality Officer: David G. Ferencik, PE
EEO Compliance Officer: Jennifer R. Kalin, RA, NCARB
Most notable is the creation of the Chief Operating Officer role, which has been established to continue to improve the firm's operational effectiveness. Having previously served as Vice President of Project Management, Frank Johnson has been appointed to this position. As COO, he will lead technical operations including identifying and implementing procedures and technology to improve project delivery and ensure client satisfaction.
In addition to the above changes, the Board announces the voluntary departures of Business Development Manager Brett A. Neff and Accounting Manager Deborah I. Joppeck from the Board. The Board thanks them both for their dutiful guidance during their tenure as Directors.
With the election of new Directors to the Board and Officer assignments in place, R.E. Warner is positioned to reinvigorate our business strategy and build upon the successful elements that have allowed us to serve our clients for nearly seven decades. It is our privilege to be your colleagues and consultants, and we look forward to continuing to evolve and improve our professional services practice.