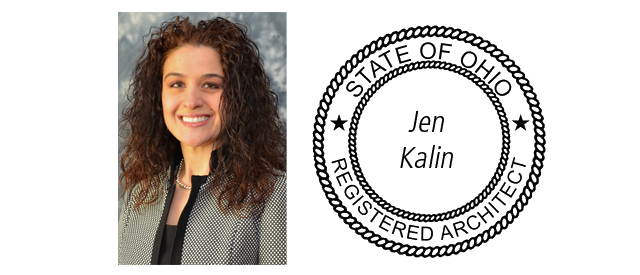 R.E. Warner is pleased to announce that Jen Kalin, RA, LEED AP, Architect/Project Manager, has passed all seven of the Architectural Registration Exams (ARE) to become a licensed registered architect in the State of Ohio. In addition, in recognition of her hard work, dedication to client service, and superior leadership capabilities, she has been promoted to Senior Project Manager.
"R.E. Warner is incredibly fortunate to have Jen as part of our team," President & CEO Ted Beltavski said. "We are proud of her for receiving her architectural license, and even more pleased to promote her to Senior Project Manager. Jen excels at serving our clients and providing leadership to our project teams. Further, her commitment to delivering high quality work is readily apparent to all. She is well-deserving of this honor."
Jen's experience involves public buildings and facilities, warehouses, maintenance and repair facilities, manufacturing plants, and office and administration buildings. Her portfolio includes new construction, renovation, and expansion projects.  She provides provides project management as well as full architectural services, including programming, schematic design, design development, construction documents and construction administration. She also has the capability to provide interior design/interior architecture services.