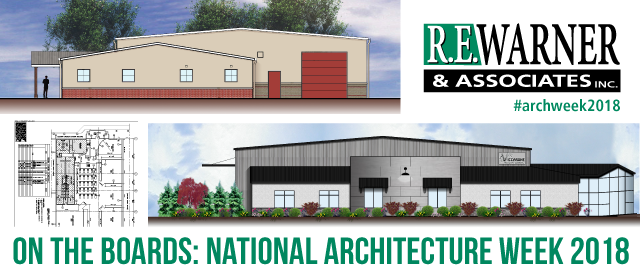 In honor of National Architecture Week, we're looking back at what's been keeping our architects busy over the last year, from new buildings to maintenance and improvements projects.
New Bratenahl Service Garage
Design/Build services with Cold Harbor Building Company to construct a new service garage and salt dome to replace existing 100-year old facility. The project includes design of a new 1,600 square foot salt dome, a new 10,000 square foot service garage, a secure vehicle storage area, a secure above ground storage tank area and all associated site work.
New Viccarone Heating & Air Conditioning Facility
Complete A/E services for a new office and fabrication facility.  This new building will house a large open space for fabrication, loading/unloading, and storage as well as an office component which will house all the support areas such as private offices and conference rooms.
City of Cleveland City Hall Renovation
Renovation of two of the City's offices, which include internal audit and risk management services.  Renovations have included new flooring, ceiling, walls, furniture, and fixtures.  This project also involved balancing and completing HVAC repairs in the Civil Service office.
Powerhouse Gym Tenant Fit Out
Preparation of a floor plan and provision of notes, legends, and schedules to obtain a building permit.
Multiple Roof Renovations
Assessments and architectural services for the replacement of roofs at multiple City of Cleveland recreation centers; the City of Rocky River Ice Rink; the Elyria Department of Utilities; and Akron Metropolitan Housing Authority's Fred W. Nimmer Place.
In need of an A/E partner to assist with your upcoming project? We'd love to help. Contact us today to get started.