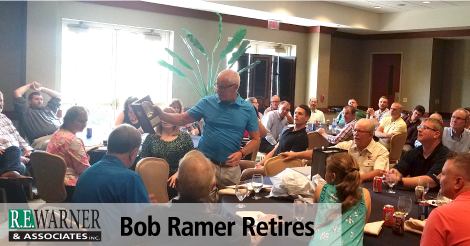 R.E. Warner staff, retirees, and friends gathered yesterday to celebrate Bob Ramer as he retires from the firm. Senior Vice President Brett Neff, Project Director Ed Dziubek, retired former R.E. Warner president Dave Sminchak, and retired structural engineer Dave Moes gave speeches honoring Bob's impact on all those he worked with and his positive influence in helping to grow the company.
The company also recently celebrated Bob's 50-Year Work Anniversary. Reprinted below is the profile of his illustrious career prepared for that occasion.
Bob, you will be missed!
—-
Project Director Bob Ramer Celebrates 50 Years at R.E. Warner
June 1, 2017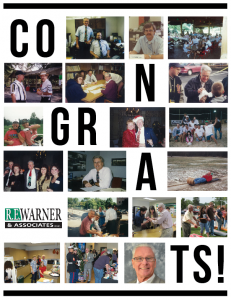 It is extremely rare for a person to reach 50 years working for one company. R.E. Warner is pleased to share that on Thursday, June 1, 2017, project director Bob Ramer celebrates this milestone.
"This momentous occasion is a testament to Bob's character. He is well regarded by clients and colleagues alike, and we are fortunate for his positive influence on our company over the last five decades" president Ted Beltavski, PE said.
Robert "Bob" C. Ramer, PE joined R.E. Warner & Associates, Inc. on June 1, 1967 as an entry-level draftsman after having looked for a part-time position that would allow him to continue attending classes at Lorain Community College. In 1977, he was elected shareholder in recognition of his contributions to the firm. Since then, he's been a vice president, project director, and almost everything in between. Most significantly, he has been influential in the firm's transformation from a steel mill service design firm into a multi-discipline architecture and engineering firm serving many different markets. It is in large part thanks to Bob's technical and relationship building skills that the firm now has a significant auto and manufacturing practice and boasts clients such as Honda, Ford, and General Motors.
Bob has also been active in numerous professional and civic organizations throughout his career. He has been a member of the Cleveland Society of Automotive Engineers (SAE) Section for 16 years and is presently the chapter's Secretary and Math and Science Chairman. He was selected to receive the SAE Distinguished Section Member Award, which is the highest honor for member involvement. Bob is also an active member of the National Society of Professional Engineers.
Bob also makes it a priority to mentor local youth to encourage students to pursue careers in engineering. He often volunteers at area school districts for STEM-related programs and has been a Mathcounts Contest volunteer for approximately 30 years. Further, he has served on the SMART Consortium Management Council, advising area school districts on improvements to math and science programs.
On the occasion of this milestone anniversary, we interviewed Bob to learn a little bit more about his experience at R.E. Warner and the changes he's witnessed over the years. Read on to learn a little bit more about Bob.
1. What attracted you to R.E. Warner?
At the time, I was looking for a job in Lorain for the summer and part-time while I was going to Lorain Community College. R.E. Warner had their office in the Broadway Building at the corner of Broadway and East Erie Avenue. Bill Skellenger interviewed me and gave me a job as an entry-level draftsman and allowed me time off for school. Bill made a good impression, was a good role model and helped teach me the ropes.
2. What has kept you around for 50 years?
R.E. Warner has always treated me fairly and the people became my best friends and mentors. I have always loved the challenges and opportunities to work on a wide range of different projects. Every day at R.E. Warner is an opportunity to see new things, meet new people and meet new challenges. I have had many different titles and was given opportunities to help grow the firm. The officers of R.E. Warner have always allowed me to do my thing!
3. What has changed and what has stayed the same over the years?
Having been around this many years, I have seen a number of management changes as well as personnel changes and location changes. I even had an opportunity to have an office with a dozen people over the clubhouse at Fox Creek servicing the U.S. Steel Plant in Lorain, Ohio. R.E. Warner has evolved from a steel mill service design firm to a multi-discipline firm serving many different industries. I have had the opportunity to establish the auto and manufacturing business which I have always found interesting, as I am a car guy.
4. Fondest work memory?
My fondest work memory, which isn't work-related, is the wonderful support and love that everyone at R.E. Warner has given my family with regard to my grandkids' health problems. I can't thank everyone enough for everything they have done!

5. What are you most proud of in your time at REW and why?
I am most proud of the fact that I was part of helping to make R.E. Warner one of the leading A/E firms in the area.

6. What has been your favorite project that you've been involved in?
I can't say I have a favorite project, but I have to admit I had more fun and had something special to talk about while working on the projects at Cedar Point associated with the roller coasters. Not many people can go there and say R.E. Warner designed the foundations and stations for two of their best rides.
7. What is something that has changed in the work world or about engineering in 50 years that you would never have imagined when you were starting out?
When I was in school I had two slide rules! It is just amazing to imagine how technology has changed the world in my lifetime. When I was a kid in Parma, we had one phone with a rotary dial, long cord and a party line (when your phone rang so did half the phones in the neighborhood) — now look what your phone can do!

8. If you could do another job for just one day, what would it be?
I really don't know! I like what I am doing or I wouldn't have been doing it this many years. I have always told my kids and grandkids: If you don't like what you are doing, find another job! If you aren't happy doing what you are doing, you will be wasting most of your life doing something you shouldn't be doing. Enjoy your job; money isn't everything.
9. What are your hobbies and interests outside of work?
I can't just sit and watch TV! I always have to be doing something. Some of my hobbies and interests are:
• Art, painting, photography, etc.
• Family
• Cars (old, new, fast and slow)
• Working around the house (inside and out). I finished off a room over the garage, basement, deck, and lily pond. I even like mowing the grass!
• Regular workouts and swimming (4 to 5 miles a week)
Thanks, Bob, for letting us share your story, and congratulations on celebrating 50 years at R.E. Warner!