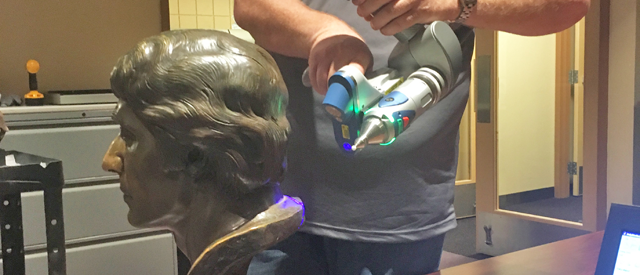 Although useful for a wide variety of applications, most clients in need of R.E. Warner's 3D scanning and modeling services have come from the industrial sector. So, when 3D Scanning Coordinator Dave Andrews received a call from Saleem Choudhry, Director – Exhibits/Museum Services at the Pro Football Hall of Fame in Canton, Ohio, he was excited.
"I spend most of my time in steel or chemical processing plants, or other heavy industrial manufacturing type facilities," Dave said. "As a football enthusiast, it was very exciting to be asked to help develop the pieces for a new fan experience and get to go behind the scenes."
Saleem reached out to Dave to ask R.E. Warner to complete 3D scanning of the John Madden, Joe Namath, and Tony Dungy bronze busts. 3D scanning is the process of using a special device to capture data about a physical object's size, shape, and appearance, which is then used to create a 3D, digital representation of the object – called a "point cloud."
The scans were completed for use in creating a new visitor experience that is yet to be unveiled. It's a secret, so even we don't know the exact details, despite having provided these services.
What was the process of scanning the bronze busts like? In a word, time-consuming, but not as much as you might think. Madden took the longest at about 90 minutes, Namath took 60 minutes and Dungy took 45 minutes. Dave used a 9' Faro Edge Articulating Arm with a Blue Light Scanner attachment – the first time R.E. Warner put such a piece of equipment to use. The equipment has a scanning accuracy of 0.001," which made the project successful.
In addition to being time-consuming, the busts were extremely tricky to scan. When first looking at them, small things like overlapping hair or an area behind the ear covered with hair are not necessarily noticed; however, if not captured in the scan there will be a gap in the point cloud. Such attributes required extreme attention to detail to make sure the entire appearance was accounted for, which is crucial to the success of the technology that will power the new fan experience.
To wrap up the project, Dave had to take the data from the scans and process it into a model the Pro Football HOF could use. Dave used two pieces of software to create the models – Polyworks and Meshlabs. Polyworks was used to capture the point clouds and wrap a mesh around them, with each mesh creation taking about 30 minutes. Once created, the file was imported into Meshlabs for the final touches. The deliverable was an Object File (.obj) that is usable across many platforms including Photoshop. The challenge of this part of the process was the file size. Each bust had between 21-30 million points when scanned. The key was to parse the data so it was more manageable and still provided a great product.
We're looking forward to seeing what the HOF has in store!