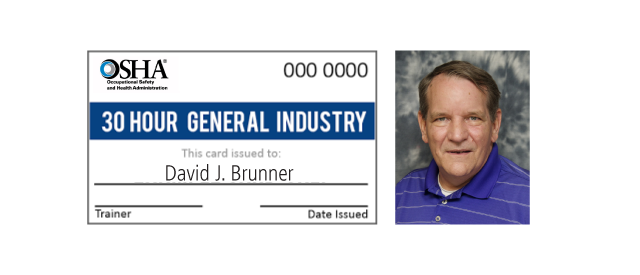 We are pleased to recognize Senior Mechanical Designer/Safety Coordinator Dave Brunner for completing OSHA's 30-Hour General Industry Safety Training. This voluntary program provides workers with training on the recognition, avoidance, abatement, and prevention of safety and health hazards in workplaces in general industry.
Specific topics covered include:
Managing Safety and Health
Walking and Working Surfaces, including Fall Protection
Exit Routes, Emergency Action Plans, Fire Prevention Plans, and Fire Protection
Electrical
Personal Protective Equipment (PPE)
Materials Handling
Hazard Communication
Hazardous Materials (Flammable and Combustible Liquids, Spray Finishing, Compressed Gases, Dipping and Coating Operations)
Permit-Required Confined Spaces
Machine Guarding
Welding, Cutting, and Brazing
Introduction to Industrial Hygiene
Bloodborne Pathogens
Ergonomics
Fall Protection
Safety and Health Programs
Power Industrial Vehicles
As Safety Coordinator, Dave ensures safety procedures are followed and promotes a safety culture, educating and reminding our team about best practices. Completing this program ensures his knowledge is comprehensive and accurate. Well done, Dave!