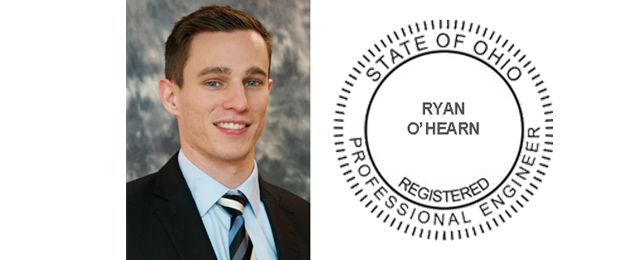 R.E. Warner & Associates, Inc. is proud to announce that structural engineer Ryan J. O'Hearn has successfully passed the Professional Engineer's exam, earning his Professional Engineering License in the State of Ohio.
PE licensure is the engineering profession's highest standard of competence, a symbol of achievement and assurance of quality.
Congratulations to Ryan O'Hearn, P.E. for having achieved the highest standard within our industry!
Ryan has been with the firm for four years and is in the Structural Department of R.E. Warner. He holds a Bachelor of Science in Civil Engineering from Cleveland State University. His structural engineering experience includes structural steel and concrete design for various large-scale industrial and commercial clients.  His experience includes calculations for building and equipment foundations, structural steel and concrete details and sections, review of structural steel and concrete shop drawings and structural investigations and evaluations. He is proficient in AutoCAD, STAAD and RAM Concept.
Ryan serves as Secretary of the American Society of Civil Engineers Cleveland Section.