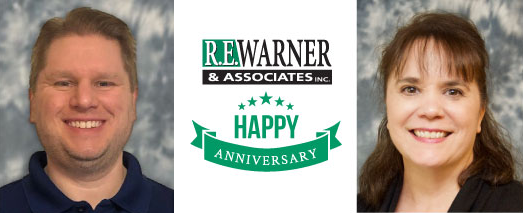 We are pleased to announce Jeff Terschak's 20-year anniversary and Janice Serfozo's 30-year anniversary with R.E. Warner! Janice joined the firm on March 26, 1990 and Jeff joined us on March 27, 2000.
Janice Serfozo
Janice started with R.E. Warner in an entry level clerical position. Today, she is an integral member of our administrative team. Because of her experience with and proficiency in coordinating and managing various aspects of R.E. Warner's project operations, accounting, purchasing, and other administrative functions, she became our firm's Office Manager and Project Coordinator in 2019.
Janice's dedication, thoroughness, accuracy and attention to detail make her an invaluable team member. Her versatility and "can do" attitude are unparalleled and appreciated by all.
Jeff Terschak
Jeff initially joined us as an assistant to our Manager, Information Technology. He was soon promoted to IT Manager. In recognition of his many contributions to our company, he was nominated and elected to become a Shareholder of the firm in 2006.
As technology becomes ever more complex and ingrained in the way we work and function as a professional services provider and business, Jeff is crucial to the effective operations of our firm. He keeps our information technology systems running and protected, and serves as IT troubleshooting support for everyone in the office. In addition to fulfilling his primary responsibilities with regard to our IT systems, Jeff also provides important input regarding our business and strategic technology plans. As the subject matter expert in our firm for IT, his insight is invaluable.
Congratulations Janice and Jeff on your milestone anniversaries and many contributions to R.E. Warner!