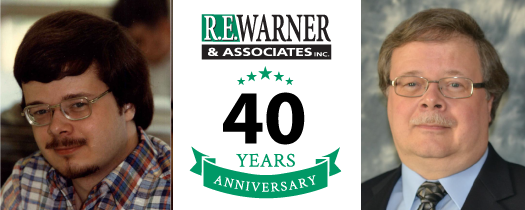 We are pleased to recognize Gordon ("Gordie") Mellen for his 40-year anniversary with R.E. Warner. Gordie joined the firm on October 16, 1978.
Gordie is highly proficient in the structural design of complex steel, automotive and chemical production facilities.  He has been an integral member of the team for many of the the firm's large industrial projects, including the award-winning Ameristeel Melt Shop Modernization, the Ross Air Pollution Control Upgrade, RTI's new Titanium Plate Rolling & Finishing and Titanium Forging & Grinding Facilities, TimkenSteel's In-Line Forge Press & Soaking Pit Equipment Installation, ASHTA Chemicals' HCL Production Upgrades, and CMC's new Micro Mill, to name a few. He also routinely works on automotive plant projects for Ford and Honda, and most recently the Leadec Merecedes Plant Monorail Upgrade.
"Gordie's exceptional attention to detail and technical capabilities make him an asset to our department. He is a dedicated, hard worker and it's pleasure to have him as part of the structural engineering team," said Dave Ferencik, Structural Department Manager.
Congratulations to Gordie on your 40-year anniversary and many contributions to R.E. Warner!