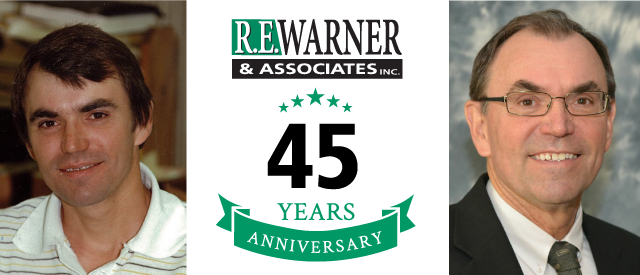 We are pleased to recognize Eddie Dziubek for his 45-year anniversary with R.E. Warner. Eddie joined the firm on June 11, 1973 as a civil engineer. Over the years, Eddie has worn many hats at R.E. Warner, from engineer to serving in a variety of leadership roles.
With over four decades of design, management and construction administration experience on capital improvement and maintenance projects for metal production and processing facilities, today Eddie serves as a Project Director focused on managing projects and developing business in the metals market.
"Eddie's dedication to R.E. Warner for the past 45 years along with his passion for developing relationships with our clients is truly what sets him apart from his peers in our industry," Senior Vice President Brett Neff said.
Asked which project he is most proud of, Eddie said: "The Arconic Martinsville, VA forging, grinding and hot metal manufacturing plant would be the one I'm most proud of. I was the project manager on the original job (when the company was known as RTI International) that lasted from 2008–2012. The project was successfully completed for all parties involved. Now we are involved with additional expansions at the facility. The best sales pitch a company can have is by just doing good quality work."
Congratulations Eddie and thank you for your service and many contributions to R.E. Warner!