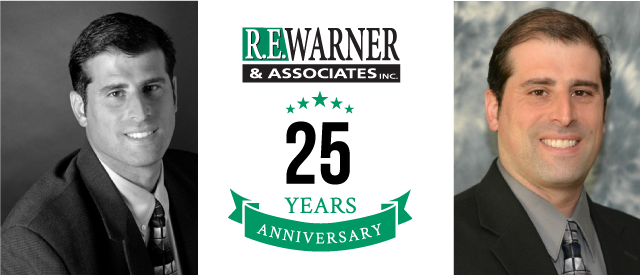 Today marks the 25th anniversary of service for our firm's Senior Vice President, Brett Neff. Brett joined R.E. Warner on June 7, 1993 after graduating from Ohio Northern University with a Bachelor of Science in Civil Engineering. He quickly emerged as a firm leader and business development natural due to his technical mindset, business sense, and penchant for networking.
Over the years, Brett has served as a civil design engineer, resident construction representative, project manager, division manager and director of business development. He was selected as a shareholder in 2000, Member of the Board of Directors in 2003, Vice President in 2007 and Senior Vice President in 2015. Brett also serves as Principal of the Government, Commercial and Auto & Manufacturing markets.
"Brett has been a valuable employee for our firm for decades," said Ted Beltavski, president. "His 'can do' leadership style gets things done at a very high level. On a personal note, Brett and I have been close friends for 20 years. It's been my pleasure to watch him grow into a true industry leader."
Brett participates in numerous professional and civic organizations. He is a member of the Cleveland Engineering Society Board of Directors, and he is one of the six founding members of the Northeast Ohio Chapter of the Society for Marketing Professional Services. He also is a member of the Cleveland Area Board of Realtors, serves on the Gorman-Lavelle Corporation Board of Directors, and is a Solon Italian Club Trustee.
Further, Brett is actively involved with his high school and collegiate alma maters. He is Past President of the Ohio Northern University Alumni Board of Directors and a former special trustee to the University Board of Directors. He is also a member of the Walsh Jesuit High School Alumni Association and supports the school's athletic program as a volunteer track and cross country coach.
For his professional and civic contributions, he was selected by Crain's Cleveland Business as one of Greater Cleveland's top "Forty Under 40″ in 2007. This is a diverse group of business, civic and political leaders from throughout the region, selected not only for their past accomplishments, but also for their future impact on the community.
Brett and his wife Jodi reside in Sagamore Hills, Ohio with their two children, Kyle, a rising junior Accounting/Finance major at Ohio Northern University and Alexis, a rising senior at Walsh Jesuit High School.
In his free time, Brett enjoys playing Bocce Ball with the Solon Italian Club, staying active, and supporting his kids – both track and cross country athletes – at their meets. He also moonlights as a real estate investor and has flipped several homes as well as constructed several new builds. He is currently in the final stages of building his and Jodi's "empty nester" house.
Please congratulate Brett on his 25-year anniversary with R.E. Warner.